Exclusive, this just freakin' in! I won Makeup Mama's Revlon lashes & Nail Giveaway after 3 or 4 people didn't confirm their addresses with her. So, yes it was by a major default, but I mean, I've never won anything like a contest before, so that's pretty cool. Thanks Makeup Mama!*_*!
So please everyone, check her blog out and follow it http://makeupbabble.blogspot.com/, along with mine guys, right now!*_*! lol But bible, this lady's skills are correct, and you won't be disappointed.
[A]
My Birthday is Sept. 14th! I can't believe I'm going to be 22 years old. Totally unreal! In honor of me getting OLD (lol) I'm hosting not only one but TWO Contests! And THREE different ways to get prizes. This month its all about MOI! And as such, these prizes are all things that I love, some of my favorite things brand new for you. And more to come!
1. Mac Brush Roll 2. Coastal Scents Palette 3. Shisem Lashes 4. 3rd Season of One Tree Hill 5. YAN YAN! 6. 2 Zoya Nail Polishes 7. NSFW Lip Tar 8. Mary Kay Blush

That's over $150 worth of prizes and MORE will be added as the month of September moves along!

These prizes will be divvied up among the winners! Now, check out how to win!

The First Way to Win : Cake Inspired Contest
MMMM Cake! Isn't that the favorite thing at most parties? Certainly the most delicious! This contest requires you to do a great original look inspired by the cake of your choice, be sure to show your inspiration! Birthday Cakes, Wedding Cakes, Fantasy Cakes. Have y'all seen that show, Cake Boss? He makes some amazing things. Your inspiration can be from anywhere! I'll be accepting look entries starting

NOW till SEPTEMBER 14TH, 2009

. You've got about a month so get those looks down ladies (and gentlemen!).

To be eligible you must be a follower of this both this blog and my personal blog

A Taste Of A Poison Paradise

.

You can post your entries on your blog, just be sure to Email your entries or link to

jaimie@justkissnmakeup.com

. Winners will not be chosen by poll, they will be decided by myself and a group of judges from my life. You will be judged on creativity, effort, and originality.

The Second Way to Win: Follower Giveaway
This is probably the easiest way to win!

To be eligible you must be a follower
of this both this blog and my personal blog

A Taste Of A Poison Paradise

.

Don't worry, they're both interesting reads :) ! Leave a comment on this entry stating you'd like to enter (ex.

"ENTER ME"

). Each blog's follower list will be cross referenced and winners will be chosen by random draw. Also, please be a real person, no faking entries, I will check! ALSO, if you post on your own blog promoting this contest and the ways to win, you can double your entry into the giveaway. You must leave a link with me to your blog post. This Giveaway is open

NOW till SEPTEMBER 30TH, 2009

.
The Third Way to Win:
The reader who has the most participation for the month of September will also receive a prize. Whats that mean? Just being an active commenter.

There will be one winner from each blog.

Who ever has commented regularly (once per post) is the winner! Excluding this post. This Option is available starting

NOW till SEPTEMBER 30TH, 2009.

Each person can enter each contest once, but you can also enter all of the contests! Meaning that you can chose to do; the contest only, the giveaway only, both, or all three. It's up to you! This contest is open internationally.

Current followers, remember to follow the other blog or your entries won't count!
I'm looking forward to seeing what great things you all come up with in this fabulous upcoming month of September!!
Contest ongoing
till

SEPTEMBER 14TH, 2009

;
Giveaway ongoing
till

SEPTEMBER 30TH, 2009.
[Ended]
This is the link,
http://hellodenysia.blogspot.com/2009/08/giveaway.html
I need at least 5 people to take part in this giveaway! And the giveaway

deadline

is going to be

September 10th

. The winners will be announced that weekend! And this giveaway is open to everyone internationally!
Aileen of Amore Vintage is having a GIVEAWAY!
This is the link
http://amore-vintage.blogspot.com
THANK YOU ALL for visiting, reading and commenting! Your comments mean a lot to me! So now, to show a bit of appreciation, I have a giveaway for you all!
HOW TO ENTER:
For even more info, visit Aileen's blog
http://amore-vintage.blogspot.com
END of contest: 13th September 2009 at 24:00 (GMT+ 02:00)
Contest ends

Friday August 28th at Midnight my time (EST).

I'll be picking the winner randomly.
First Prize: Bohemian Love Bracelet
Second Prize: Royal Love Necklace
[Ended]
ShopnChomp is having a giveaway

http://shopnchomp.blogspot.com/
One lucky winner will receive:
Contest is open now through

MIDNIGHT

Sunday, September 6, 2009 PST.
[Ended]
Diana from Painted Lady Fingers
Konad stamping Coraline sets
The contest will run through

September 4th

and is open to followers and e-mail subscribers worldwide. Best of luck! I hope you have fun with it! I'm looking forward to reading your thoughts on Konad stamping.
[Ended]
Em of TooMuchBlush has a giveaway
Up for grabs is- Tailored Eyes Defining Mascara- Urban Brown I-Radiance Creme Eye Colour- Chiffon Fashion Junkie Eye Palette Hi-Design eye colour- Modernist Classic Couture Lip Colour- English Rose Air Kiss Shine Lip Gloss- Dress 2 Impress
+ The giveaway will end at midnight

Friday 4th September 2009.
http://toomuchblush.blogspot.com/2009/08/300-followers-giveaway-jk-jemma-kidd.html
[J]
[Ended]

Woo-Hoo I won this thing!*_*!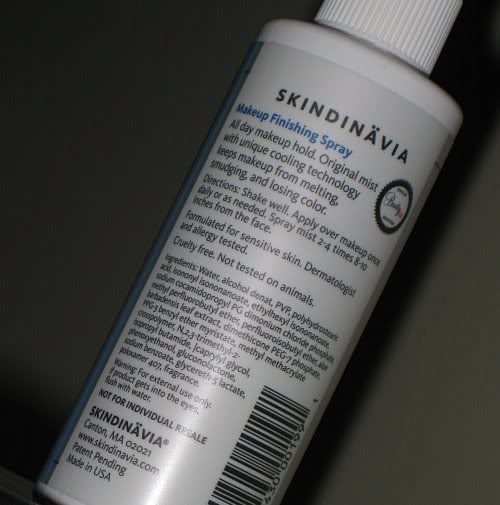 I had the impression that it was a foundation setter, which is not the case. This weightless mist is created to make your makeup last throughout the day and look fresh so you don't have to touch up so many times and make your face look cakey and possibly harm your skin by clogging your pores. This is not the same as MAC Fix it+. It's a completely different product and is so much more complex than I had ever imagined. All in all...I am super satisfied with the improvement in Skindinavia's Finishing Spray Mist. It's pretty amazing and I give it a 5 out of 5...it has become a holy grail product for me lately since it's so hot and sweating your makeup off is just unavoidable. This lil' baby helps me stay beautiful and cool underneath my makeup no matter what its like outside. It is created to make your makeup last for up to 16 hours, so good bye annoying touch ups and visits to the bathroom to check my face! You can check out the Skindinavia website HERE and look through all of their other products as well!